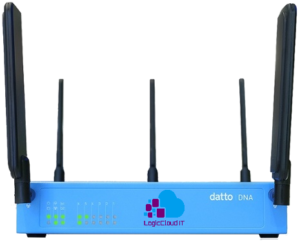 Keep your business connected!
With the LogicCloud IT Datto Networking Appliance you can stay connected and eliminate downtime caused by internet outages with fully integrated 4G LTE Internet failover and more. This appliance isn't just some small office device either; it was built to tackle networks large and small. With throughput speeds of up to 1.7 Gbps, the DNA has more throughout than any of the SonicWALL TZ series devices or even the Cisco ASA 5545 or Meraki MX400.
The LogicClodud IT Datto Networking Appliance includes everything needed to set up a network.
With a built-in edge router and WiFi bundled with the fully integrated 4G LTE failover and failback from Verizon Wireless, AT&T, Rogers or Vodafone, with unlimited data, businesses can enjoy always connected networking without the worry of data overages or charges when their primary ISP goes down. And with hardened security features such as intrusion detection and prevention and a firewall, the LogicCloud IT Datto Networking Appliance delivers performance at a price point that makes sense.
Pricing with 3 year Contract
Hardware Appliance - $360.00
Monthly Managed Device fee - $150.00
*** 1yr and 2yr contracts also available
Tech Specs
Firewall Throughput - 1.723 Gbps
IMIX Throughput - 825 MBPS
DPI Throughput - 744 Mbps
IPS Throughput - 733Mbps
Network Edge Router
Built for performance and with room to grow, the appliance continues to provide more advanced routing features in an ever-growing platform that delivers what you need.
Firewall
Incorporating advanced security features such as stateful packet inspection, layer 7 DPI, port forwarding, DMZ host, and VLAN segregation, the appliance delivers peace of mind for you while protecting your clients' networks.
Intrusion Detection and Prevention
Delivering layer 2 protocol analysis, the appliance actively identifies any packets that shouldn't be there and proactively prevents them from affecting the network. The end result is secure connectivity that you can count on.
Connectivity*
All of the connectivity you need with six 10/100/1000 I/O ports (2 WAN and 4 LAN), 3x3 MIMO 802.11ac WiFi, and fully integrated, multi-band CAT4 radio for 4G LTE failover and failback.
External Antenna Accessory
As many networking appliances are physically located in a back room, in a closet or simply "out of the way," there are scenarios where the location of the appliance can cause interference and negatively affect the appliance's ability to connect to the LTE network. To remedy this situation, the appliance also has an optional, external antenna. This additional antenna support creates more flexibility and options for you to deploy the LogicCloud IT Datto Networking Appliance, and improves connectivity, even in low signal environments.
Client/Site-to-Site VPN
Whether it's Client VPN (IPSec, IKEv2 and OpenVPN) or Site-to-Site VPN (DNA to DNA, DNA to non-DNA, Hub & Spoke), LogicCloud IT Datto Networking is committed to delivering robust VPN support.
Layer 7 Deep Packet Inspection
This deep level of analysis enables the appliance to categorize traffic by application, and lays the groundwork for enhanced layer 7 features and capabilities.
Traffic Shaping
Traffic Shaping enables you to determine what applications require precedence to ensure those applications have enough bandwidth to function in an uninterrupted mode.
Ready to be always connected?
Contact us today to get started!
*4G LTE is provided by ATT or Verizon. Client chooses which carrier at time of hardware purchase. 4G LTE service is subject to the carriers terms and conditions. IP provided by the carrier is dynamic, and therefore created a double NAT when traffic is flowing over the cellular connection. While standard internet traffic will work without issues, some services and service providers such as VoIP and VPN are not able to support double NAT. If a static IP is needed or if one of your systems or services will not support a double NAT the LogicCloud IT Datto Networking Appliance will not work for you , however, we have alternative services available to provide you with 4G LTE backup internet.